MC-300 (chrome) and MB-300 (matte black). The FilterMag logo sticker is easily removed.
Brilliant Chrome or Matte Black.
Your Choice.
FilterMags for Most American Motorcycles
Most American motorcycles don't have enough room for two FilterMags. That's why we made the MC/MB Series. They have additional magnetic surface area for a single FilterMag installation.
While we were at it, we upgraded the appearance with a brilliant smooth chrome or matte black face (paintable) to compliment the look of your bike.
A single SS-300 will also fit. Take your pick.
What is the difference between the
MC/MB-300 and the SS-300?
The MC/MB-300 (left) features:
The MC/MB-300 wraps around the filter a full 180° and is 2.6 in. (67mm) tall.
The MC/MB-300 has taller magnets (plus two additional magnets) than the SS-300 resulting in 54% more magnetic contact area.
Available in brilliant polished chrome or matte black (paintable).
The SS-300 (right) has a 132° arc and is 1.9 in. (48mm) tall.
Fits oil filter diameters from 2.9 in. (74mm) to 3.4 in. (86mm)
The FilterMag logo sticker is easily removed.
Filter Cutter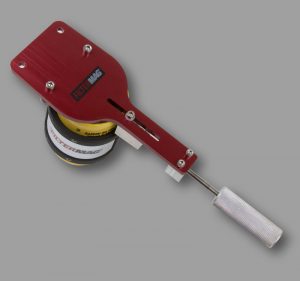 FM-001 Filter Cutter
Prove the effectiveness of FilterMag by inspecting your own filter.